[ad_1]

The U.S. soldier who willingly defected to North Korea has been identified as Private 2nd Class Travis King, the U.S. Army told Newsweek.
Army spokesperson Bryce Dubee told Newsweek on Tuesday that King has served as a cavalry scout in the regular Army since January 2021, while receiving several awards, including the National Defense Service Medal, the Korean Defense Service Medal and the Overseas Service Ribbon.
Defense Department officials previously confirmed to Newsweek that a U.S. Army soldier had "willfully and without authorization" crossed the Military Demarcation Line that divides North Korea and South Korea. King is believed to be in North Korean custody.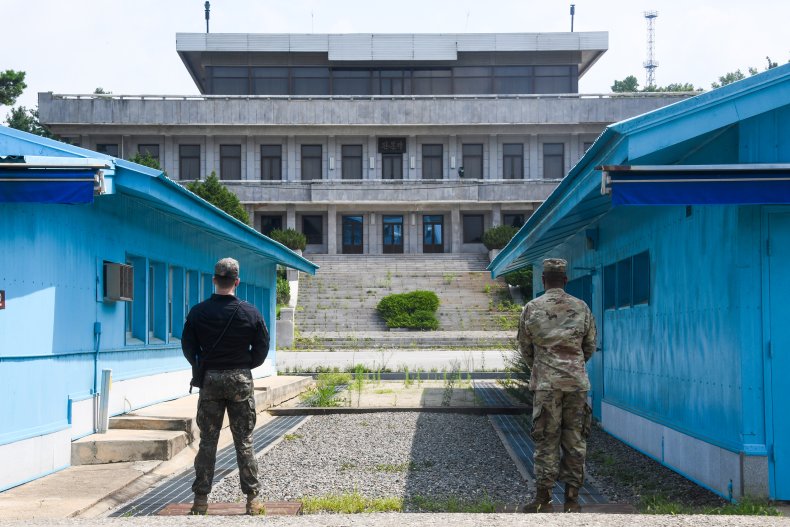 According to a report from the Associated Press, King was recently released from a South Korean prison where he was being held on assault charges. The soldier also faces military disciplinary actions in the U.S. and was being escorted to an airport to be returned to Fort Bliss, Texas, when he left and crossed into North Korean territory to join a tour of a border village.
U.S. officials who spoke with ABC News said that King spent about a week at a U.S. base in South Korea after being released from the detention facility, and was no longer under custody when he was escorted to the airport. According to the report, the military escort who had taken King to the airport was not required, since he had completed serving his time, and there was no reason to expect that King would fail to board his flight. A U.S. official confirmed to ABC News that the soldier is 23 years old.
Secretary of Defense Lloyd Austin told reporters earlier Tuesday that he was "absolutely foremost concerned about the welfare of our troops," adding that the Defense Department will "keep focus" on learning more about King's status.
King's defection arrives amid escalating tensions between North Korea and the U.S. due to America's military collaboration with South Korea. Last week, North Korean officials claimed that a U.S. aircraft had "illegally intruded" into its airspace "several times," although South Korea's military denied the accusations.
Pentagon spokesperson Sabrina Singh told reporters last week that the U.S. "as always, remains committed to safely and responsibly flying, sailing, operating anywhere that international law allows and alongside our allies and partners" when asked about the accusations from Pyongyang officials.
"I just don't have anything more to say on those comments or those threats coming out of North Korea," Singh added.
[ad_2]

Source link