[ad_1]

Members of two left-leaning Dutch political parties have overwhelmingly voted to join forces ahead of a November general election in an attempt to unify their side of the Netherlands' splintered political spectrum, they said Monday.
Green Left and the Labor Party officials said a week-long referendum among their members showed both parties strongly backed a plan to submit a joint list of candidates and campaign on a joint manifesto.
In past elections, the center-left vote split between the two parties and the more left-wing Socialist Party. The divided support helped to usher in a series of center-right or conservative coalitions led by outgoing Prime Minister Mark Rutte.
DUTCH DIPLOMAT QUITS AMID 'UKRAINIANS ALSO RUSSIANS' COMMENT CONTROVERSY
The Nov. 22 election for all 150 seats in the lower chamber of the Dutch parliament was scheduled after Rutte's latest, four-party coalition failed to agree a package of measures to rein in migration and resigned earlier this month.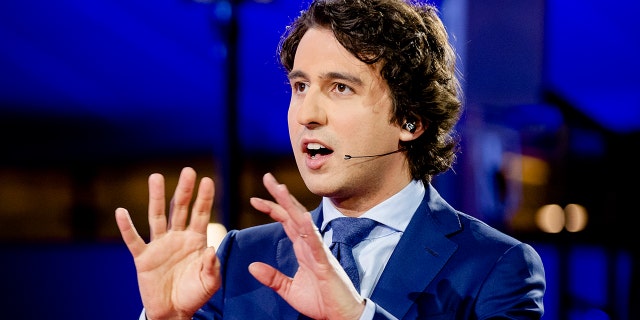 The House of Representatives is currently made up of lawmakers from 20 different parties, reflecting the divisions in Dutch politics and society.
"In a time of distrust and fragmentation and, above all, of being against one another, we say, 'No, we're doing it together.''Because we believe that things can be done differently and that things should be done differently and that the Netherlands is eager for air, for change," Labor Party leader Attje Kuiken said.
DUTCH, LUXEMBOURGISH PMS PUSH SERBIA, KOSOVO TO DEFUSE TENSIONS UNDER UKRAINE WAR'S SHADOW
Rutte, the Netherlands' longest-serving prime minister, announced a week ago that he will leave politics once a new government is formed after the election.
The Labor Party, once a strong force in Dutch politics, currently has nine seats in the lower house, Green Left has eight. The two parties are hoping their united front will win them more support than they managed to get during the last election.
Green Left leader Jesse Klaver called the merger a breakthrough.
CLICK HERE TO GET THE FOX NEWS APP
"Finally, it's the end of an era," he said. "But today, we are also ushering in a new era, saying goodbye to a time when it was only about everyone for themselves, about putting their own interests first."
[ad_2]

Source link